Customers at Shoppers Drug Mart or any of Loblaw Companies Ltd.'s grocery stores will soon use a new, unified loyalty program that replaces Optimum and PC Plus points.
Loblaw will merge the two programs starting Feb. 1, 2018 under the name PC Optimum.
You can keep collecting points as usual until Feb. 1 next year when their Optimum and/or Plus points will move to the new program at equal value. If a collector has $100 worth of Optimum points, they will receive $100 worth of PC Optimum points, for example.
The new program will have an easy to remember redemption system – with 10,000 points valued at $10, 20,000 points at $20 and so on to a maximum single transaction redemption of $500. Shoppers can use their reward money at any of Loblaw's nearly 2,500 stores and the company's websites.
Consumers will earn 50 per cent more points for almost every dollar spent at Shoppers Drug Mart locations to help account for the higher number of points needed for each redemption level. Under the current Optimum program, collectors earn 10 points for every $1 spent, but need 2,000 fewer points to buy $10 worth of goods, for example.
However,  it's difficult to gauge whether the new system will provide extra value for consumers because while the change in the point structure means points are earned faster, they are redeemable for less dollar value.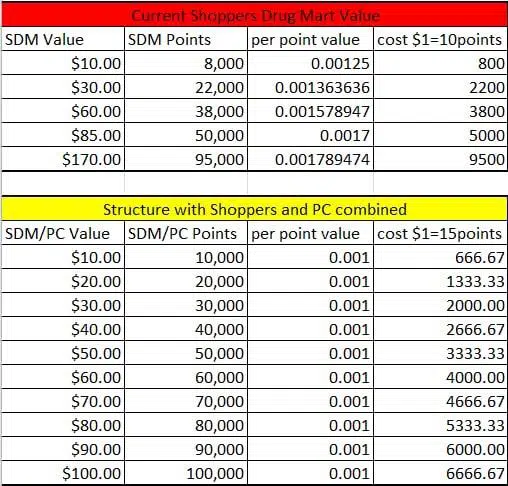 The change means PC Financial debit card holders no longer earn PC points when using those cards.