Political journalist Van Jones is getting a new, self-titled show on CNN, and will interview rap mogul Jay-Z to mark the occasion — not to mention, highlight hip-hop's growing reputation as a ubiquitous, global force.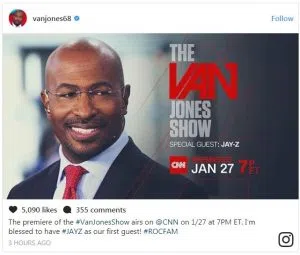 Jay will be appearing to discuss not just his Grammy-nominated album, 4:44, but also social justice issues, a topic in which he's become increasingly interested in recent years. The Roc Nation and Tidal owner has funded a documentary about Kalief Browder and is producing a documentary about Trayvon Martin. He also penned a New York Times op-ed criticizing the treatment of Philadelphia rapper Meek Mill, who was recently sentenced to a 2-4 year prison stint as the result of a probation violation, as "heavy-handed and unjust."
In an interview with Variety, Jones said, "[4:44] is a real social justice classic, and I want to talk to him about that," but also added that he would be picked the rap veterans brain about current events and politics as well.
"It used to be that politics were solely for us news nerds. That's no longer the case," he said. "Everything and everybody is now involved in politics in some way. Sports figures, musicians, actors are 100% engaged … Politics has taken over everything and everything has taken over politics – and the show will reflect that."
Given Jay's recent activity in the field of social justice and unique perspective as a former drug dealer from Brooklyn, New York's Marcy Housing Projects who made it to the boardrooms of global corporations like Roc Nation and Tidal, it appears Jones has made an interesting choice for his first guest.
The Van Jones Show will debut on Saturday, January 27 at 7 p.m. on CNN and will appear twice each month.
Source: http://uproxx.com/hiphop/jay-z-van-jones-cnn-show-first-guest/