Black Panther: The Album remains at No. 1 at the box office and on the charts. The soundtrack to Marvel's blockbuster tops the Billboard 200 for a third week.
Selling 76,000 equivalent album units (15,000 traditional), the Kendrick Lamar and Top Dawg Entertainment-curated project has spent the most weeks at No. 1 for a soundtrack since Frozen, which topped the chart for 13 non-consecutive weeks in 2014.
Tory Lanez earns the week's highest debut at No. 3 with his sophomore album Memories Don't Die, which sold 54,000 units (15,000 traditional). His debut I Told You opened at No. 4 in 2016 with 52,000 units.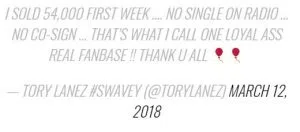 BILLBOARD 200 TOP 10
1. Various – Black Panther: The Album – 76,000
2. Various – The Greatest Showman – 60,000
3. Tory Lanez – Memories Don't Die – 54,000
4. Migos – Culture II – 52,000
5. Ed Sheeran – ÷ – 36,000
6. Post Malone – Stoney – 35,000
7. Imagine Dragons – Evolve – 29,000
8. Camila Cabello – Camila – 27,000
9. Kendrick Lamar – DAMN. – 26,000
10. 6ix9ine – DAY69 – 24,000
SOURCE: http://www.rap-up.com/2018/03/12/black-panther-album-tory-lanez-billboard-200/