Drake's latest song, rumoured to be called 'Showin Off', has leaked online.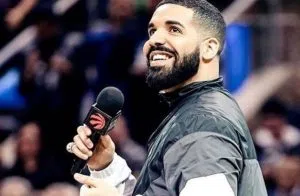 The rapper, who recently released his viral 'God's Plan' music video, is currently working on new music for his highly-anticipated upcoming album.
However unfortunately for Drake and his record label, his latest song has already been exposed.
Despite the leaks being removed by the second, fans are already listening and reviewing Drake's latest effort, which samples Lauryn Hill's 'Ex Factor'.
"You're showin' off, but it's alright / You're showin' off, but it's alright and it's a short life," Drake raps over the soulful sample.
Fans appeared to discover the song after someone had leaked the snippet online and received an official takedown notice from Drake's record label Universal Music Group.
The notice referred to a previously unknown Drake song called 'Showin Off'.
Meanwhile, Drake recently confirmed that his follow-up to 'God's Plan' is coming very soon.
The rapper commented under Chubbs' Instagram posts about the success of his song 'God's Plan'.
"Next one soon splash," he wrote.
SOURCE: http://www.capitalxtra.com/artists/drake/news/showin-off-leak-online-listen-reaction/