Onika tweeted-and-deleted a post on Sunday (April 8), updating Twitter with a simple "4" before taking it down. It was her first post this year.
Many believed it was a not-so-subtle hint about her upcoming fourth album, the follow-up to 2014's The Pinkprint.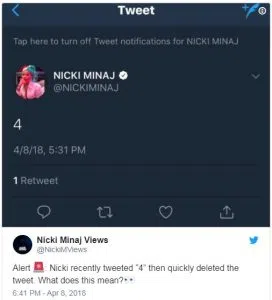 Other fans thought the number could be a countdown to new music. "NICKI MINAJ TWEETED 4. AT MIDNIGHT IN 4 DAYS IT WILL BE FRIDAY THE 13TH. THIS MIGHT POSSIBLY BE THE DAY OF HER FOURTH ALBUM RELEASE," tweeted one Barb.
This year, Nicki Minaj has shied away from the spotlight while crafting her long-awaited new album. She re-surfaced in a Mercedes-Benz and TIDAL ad last month.
Little is known about Minaj's fourth album. Last year, she released a three-pack bundle, including "No Frauds" featuring Lil Wayne and Drake, "Regret In Your Tears," and the Lil Wayne-assisted "Changed It."
She's also been a mainstay with features, guesting on tracks with Migos, Cardi B, Nick Jonas, Farruko, Bad Bunny, 21 Savage, and A$AP Ferg.
We'll have to wait and see what it all means.
SOURCE: http://www.rap-up.com/2018/04/09/nicki-minaj-4-tweet-fuels-album-speculation/