Ain't nothing fake about this DM. Nicki sent me these DM's yesterday night. I went on private after her fans came for me. So you can FOH with that noise. pic.twitter.com/VUMXB1cJ1t

— Wanna (@WannasWorld) July 1, 2018
Toronto blogger @WannasWorld took to Twitter to give her thoughts on Nicki's current sound/direction but was quickly met by Minaj herself in their DM.
Wanna (who is clearly a huge Nicki fan) simply said "You know how dope it would be if Nicki put out mature content? No silly sh*t. Just reflecting on past relationships, being a boss, hardships, etc. She's touching 40 soon, a new direction is needed."
Nicki didn't take those words too well, as she hopped right into her DM's with some words of her own. Nicki said "When ya ugly a** was 24 u were pushing 30? I'm 34. I'm touching 40? Lol And what does that have to do with my music? Eat a d**k u hating a** h**."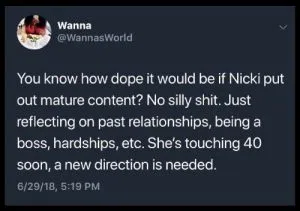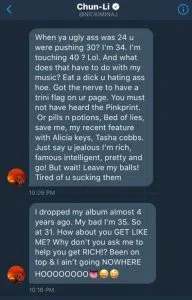 Minaj laid out all her accomplishments, then ended the DM by saying "How about you GET LIKE ME? Why don't you ask me to help you get RICH!? Been on top & I ain't going NOWHERE HOOOO."