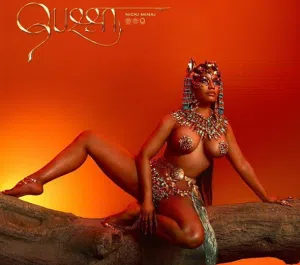 NICKI MINAJ fans have been waiting FOREVER for her fourth album, "Queen" to drop.  It was supposed to hit back on June 15th, but got postponed.  Then it was slated for last Friday.
So the new release date was supposed to be August 17th.  But last Friday . . . she dropped it as a surprise release anyway.  So yeah, it came out a week early . . . but also two months late.
Anyway, the album's out now.  And there's a diss track called "Barbie Dreams" where she name-drops a bunch of rappers who've supposedly tried to BED her over the years.
She names 11 dudes in the song, and most of the lyrics are VERY R-rated.  And the names include Drake . . . Meek Mill . . . Eminem . . . DJ Khaled . . . 50 Cent . . . and Giants wide receiver, Odell Beckham Jr.
Nicki claims it's NOT really a diss track though.  It's supposed to be "funny," and she actually loves all of the guys she's clowning on.
She's also got another new song out that's NOT on the album, called "Sorry", featuring Nas.  And it samples the Tracy Chapman song, "Baby Can I Hold You".)
Supposedly, that's the track that almost delayed the album, because Tracy said NO to the sample request.  So it's online, but not officially on the album.