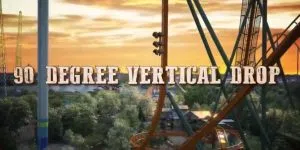 It's called the Yukon Striker, which Canada's Wonderland bills as the "longest, fastest and tallest dive roller coaster in the world."
Yukon Striker will zip along more than 1,100 metres of mountainous track and include a 90-degree, 75-metre drop into an underwater tunnel.
Canada's Wonderland says the Yukon Striker will claim several world records, including the longest, tallest and fastest dive coaster at 130 kilometres per hour.
The ride will be part of the park's Frontier Canada section, which will depict the Yukon backcountry during the Klondike Gold Rush era of the late 1890s.