The Invasion of Privacy rapper is now getting her own shade of lipstick from Tom Ford.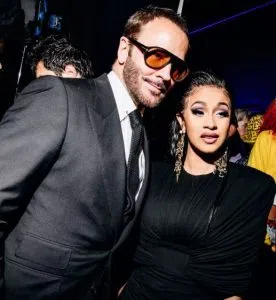 The Tom Ford Beauty brand broke the news on Sunday (Sept. 9), posting an image of the bold blue shade and Cardi's name on Instagram. "Meet Cardi. #TFBOYSANDGIRLS #TFLIP #TOMFORDBEAUTY," the caption of the post reads.
Cardi also celebrated the news on IG, re-posting the Tom Ford post and adding, "Thank you so much @tomford and @tomfordbeatuy!!! So excited for this and what's to come."
Just the latest shade in Tom Ford's Lips & Boys collection, the new Cardi shade follows the brand's trend of naming lipsticks after other celebrities such as Julianne [Moore], Dakota [Johnson] and Naomi [Campbell]. There's no word yet when the lipstick inspired by Cardi will be released.
As expected, the decision to name a lipstick after Cardi following the New York Fashion Week incident has led to a heated debate on the original Instagram post. While some fans were excited about the upcoming product, other's felt that Cardi doesn't deserve to have a lipstick named after her.
But Cardi doesn't seemed to bothered by that. In another Instagram post, the rapper claimed the upcoming lipstick has already sold out, adding, "Sorry :/….."