Jay-Z returns to the top spot with a staggering $76.5 million haul.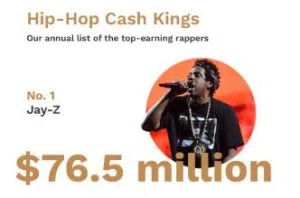 The multifaceted mogul hit the road in support of his album 4:44 after welcoming twins with wife Beyoncé in 2017. This year, he's kicking it up a notch with the launch of Everything Is Love, the couple's first joint album, and stadium tour On The Run II.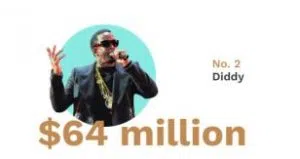 After topping our list three years in a row, Diddy slips to the second spot with $64 million but still makes bank thanks largely to a beverage empire that includes Ciroc vodka, DeLeón tequila and Aquahydrate alkaline water.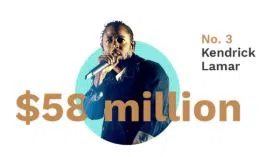 Kendrick Lamar rounds out the top three with a career-best $58 million tally while packing arenas from Los Angeles to London on his solo tour and as headliner of TDE: The Championship Tour. He's also been cashing in on deals with Nike and American Express.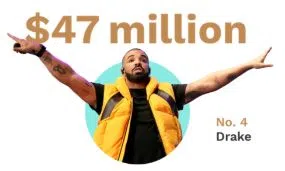 Drake (No. 4, $47 million) is the world's most consumed musician with some 5 billion streams in the past 12 months, but slowed down his touring pace and fell from last year's list No. 2 finish.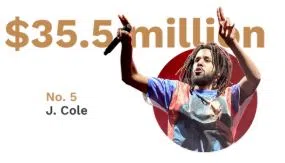 Dr. Dre (Tied at No. 6, $35 million, tie) is still collecting compensation from his landmark Apple deal–along with income from his extensive back catalog, enough to keep him high on our list.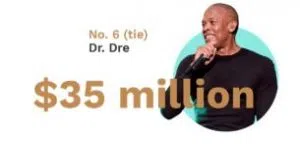 Nas pulled in a career best $35 million in all, but that's only good for the tie at No. 6 on the list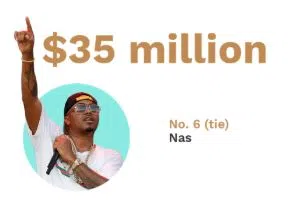 See the rest here: https://www.forbes.com/sites/zackomalleygreenburg/2018/09/12/the-worlds-highest-paid-hip-hop-acts-2018/#7dec5e5b763d